Free Features on Manolin to Improve Aquaculture Data Intelligence
By
Manolin
·
2 minute read
In today's rapidly evolving aquaculture industry, access to timely and accurate data is paramount for effective decision-making. Manolin, a leading aquaculture data intelligence company, offers a comprehensive platform that empowers aquaculture professionals with valuable farm insights. In this blog post, we will explore the features and benefits of Manolin's free account, designed to cater to the needs of farm operations. Whether you are a fish farmer, biologist, or aquaculture manager, Manolin's platform can revolutionize how you manage your operations.
Why Use Data Intelligence Software for Fish Farms?
Aquaculture data intelligence is the use of advanced technologies and analytical tools to gather, process, and extract meaningful insights from the vast amount of data generated in the aquaculture industry.
Harnessing the power of data can provide farmers with valuable insights into key factors such as water quality, feed optimization, disease management, and growth patterns. This enables them to make informed decisions, optimize resource allocation, improve operational efficiency, and enhance overall productivity.
It is crucial to implement aquaculture data intelligence sooner rather than later. This is because data intelligence allows farms to proactively identify and address challenges, minimize risks, and maximize profitability. By leveraging data intelligence, aquaculture farms can stay competitive, adapt to changing market dynamics, and contribute to the sustainable growth of the industry.
Delaying implementation means missing out on the transformative benefits that data-driven insights can bring to your farm operations.
Top Features for Fish Farms on Manolin's Free Account
With Manolin's free account, you can gain access to a range of valuable benefits. Quickly identify issues and challenges occurring at salmon farms across the industry, allowing you to stay informed and take timely action. Discover the area biomass in your specific location, providing insights into fish weights at various farms. Track farms by generation and access historical performance data to make informed decisions. Additionally, compare your sites directly with other farms and generations to gain valuable benchmarking insights.
Here are the top features farms can start using right now.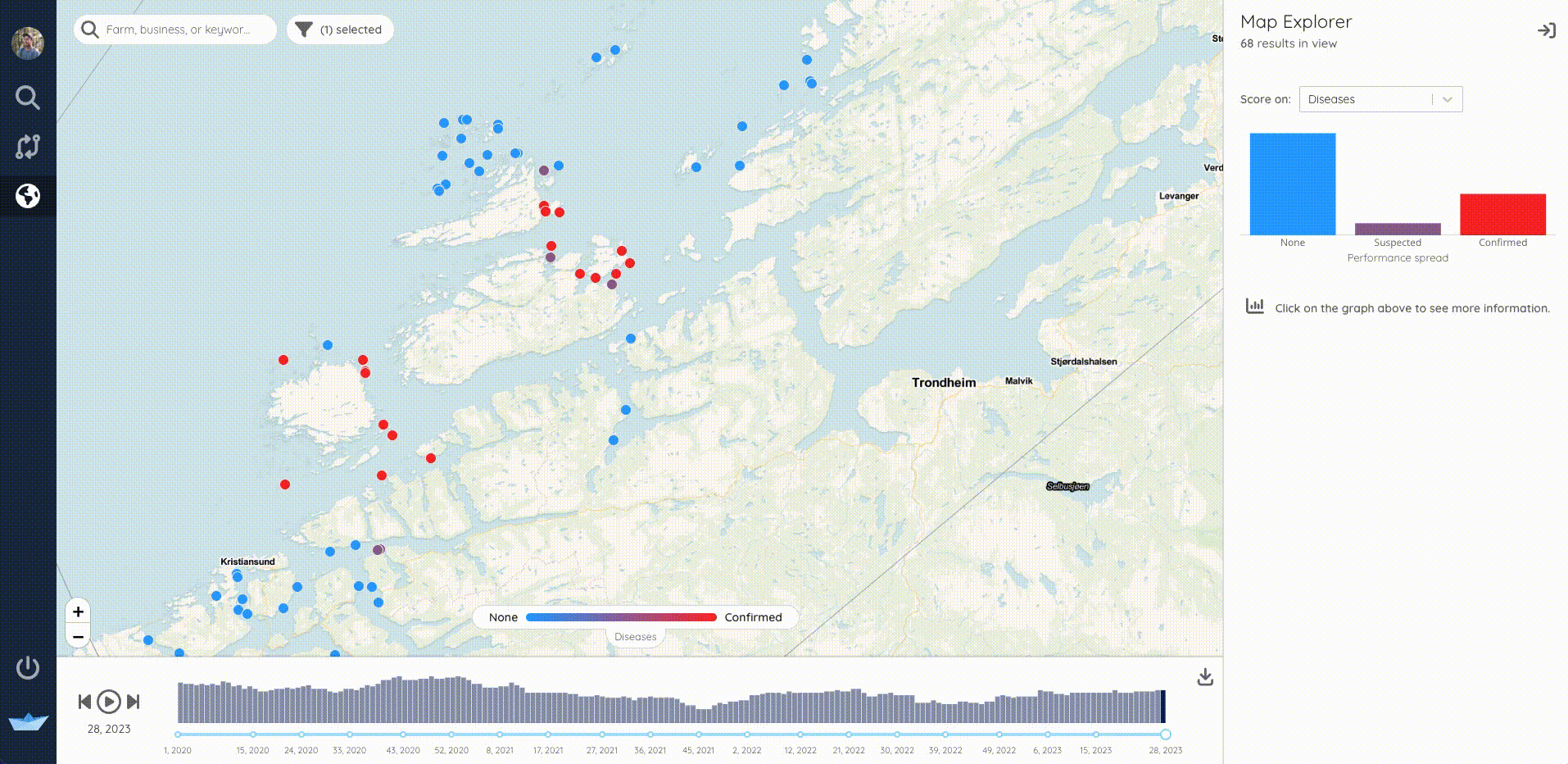 Visualize Fish Health Issues
Our Manolin Performance Index enable farms to see exactly which sites has the highest combined health issues. Zooming into specific locations of interest updates Manolin's index results immediately to more localized metrics.
Locate & Visual Farm Performance
Simply search our map by company, area, or site to get historical performance of sites organized by fish group to access critical farm data to can help optimize your decision making.


Instant Site Comparisons
Manolin is the only free software platform that allows farmers to find estimated fish weight across sites and compares to historical levels.


Automated Public Health Summaries
Access critical data and optimize decision making with conveniently automated public health summaries, total treatments, lice values, and aggregations - all in one platform.


Aquaculture Research Study Opt-in
Farms can easily opt into available research studies by simply submitting their data, and in return, get a personalized farm report on their farm insights after studies are completed.
Getting Started with Manolin

If you are a fish farm then you can sign up for Manolin's free account today. The platform is a great way to get started with data intelligence and to start making better decisions with your data.

To get started, simply visit the Manolin website and sign up for a free account. You will be asked to provide some basic information about your business, and then you will be able to start importing your data and generating insights.

Manolin is the perfect way to get started with data intelligence for fish farms. With our free accounts farms have an easy and accessible way to start making better decisions with data.